To enjoy a nice cool breeze on a hot day, you need:
✓ Well-ventilated room
✓ Relative humidity <70%
✓ 800 ml (27oz) of pure water
✓ Power supply 2A 5V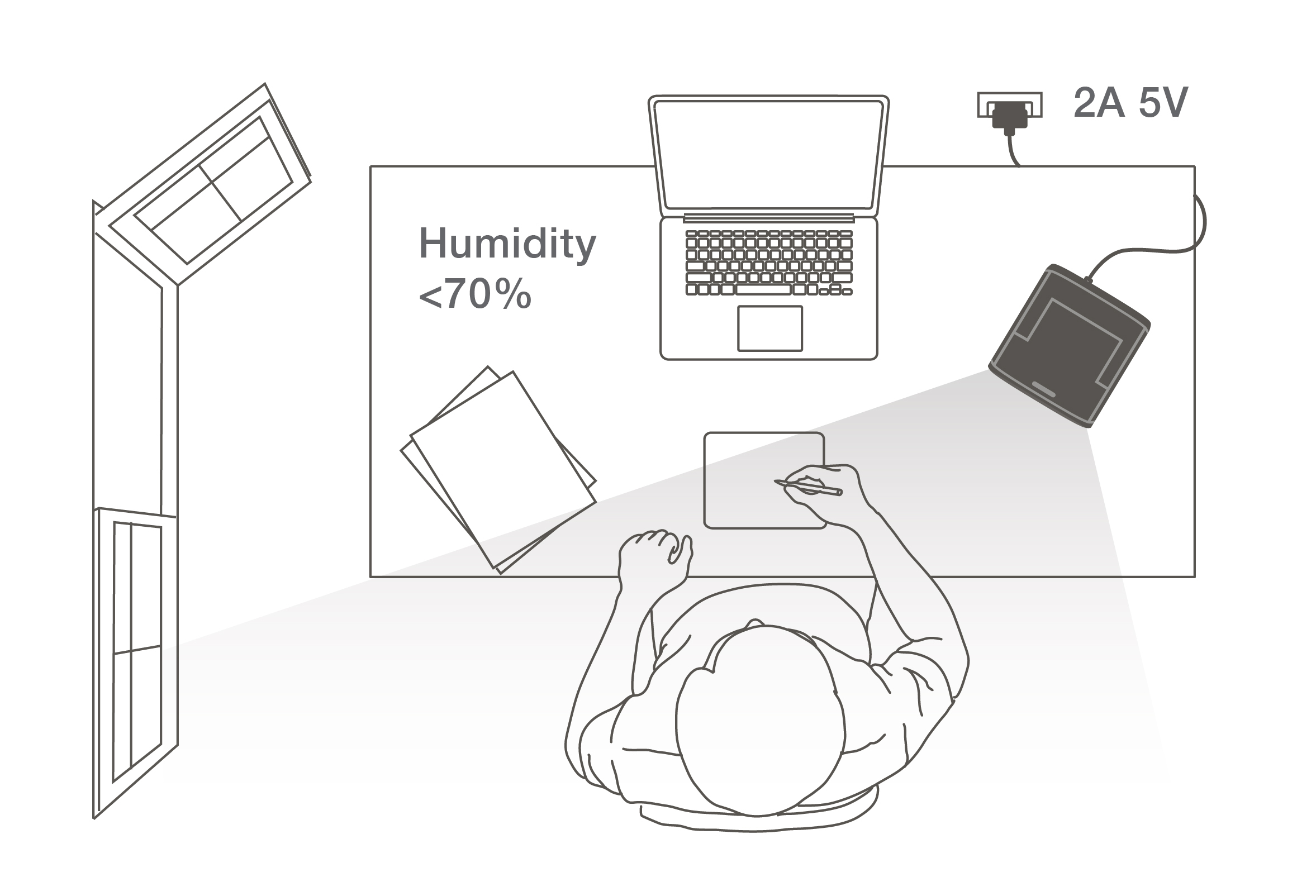 The personal air cooler creates a local comfort zone in the direction of the airflow: it is intended to cool and humidify the air, also filtering large dust particles. To be in the center of that zone, place the device within 0.5 - 1.5 m (1.5 - 5 ft) of your position with its front grill facing you. To keep the device out of your way, place it slightly aside. This way you will always have room for a laptop or a book.
To start the device follow the steps
1. Disconnect the cord, protect the USB-port with the silicone plug.
2. Slide the handle backward and lift it up. The water reservoir opening is located under the handle. Push down the locker and open the upper cover. You will find a funnel inside.
3. Fill the reservoir with pure water (filtered water is strongly recommended). Use the funnel for safer filling.
4. In order to avoid leakage, hold the device horizontally, by the handle and move it slowly.
5. Place the device on the flat horizontal surface, put the handle down, and slide it back to its original position.
6. Use a laptop or PC/power bank/adaptor plugged into a socket as a power source. 2A 5V is a minimum requirement.
7. Use the power cord to connect the device to the power source. You will see the three LE

D lights blinking one by one.
8. Push the control button on top of the device to start the fan and adjust the airflow speed.
• Short press: turn the device on/off, adjust the airflow speed.
• LED lights: left - 1st speed, middle - 2nd speed, right - 3rd
speed.
All the LED lights on – extra speed.
• Long pressing (pressing and holding) at any time: lighting on/off.
9. Move the front grills to adjust the airflow direction.
The temperature of the outgoing air will start to decrease in a few minutes. Enjoy your personal microclimate!
Depending on the air temperature and humidity, the full reservoir should provide from 3 to 8 hours of uninterrupted cooling.
TIP: To extend the time period before the next refill, you need to fill up the reservoir, wait until the cartridge is full of water (max.10 minutes) and then refill the reservoir once again
To get the most out of your cooler, please, read

this article

.
If you have any questions, please feel free to ask anything via our Contact form, we'll be glad to help you!